Bush Poets Tells it from the Heart
Irving's the True Blue Aussie Icon
Webified by Bernd Wechner - Please respect his efforts and avoid plagiarism (namely uncredited copying of this page).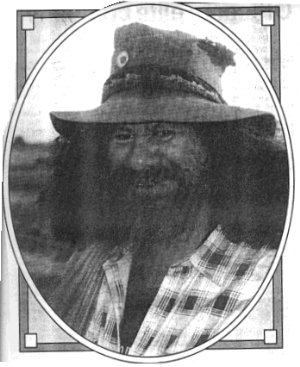 Let's forget the black side of Wollongong life today - the murders, robberies, paedophiles, copper smelters, sick economy, uncertainty and lying politicians and subjects in general which darken the soul.
It's time to escape and I can think of no better way than journeying into the outback and meeting a wonderful character named Irving Campbell, Australia's only living swagman.
Let's forget the gloom and walk the tracks with Irving. But don't be misled. We're not talking about a vagrant who packed up his blankets and billy and hit the trail just to wander aimlessly into the sunsets.
Unforgettable, fascinating Irving Campbell is far more than that. He's a bush poet extraordinaire, busker, author. writer, larrikin and swaggie all rolled into one, and to meet this remarkable human being is a joy to behold.
I know that some of you have seen him in Wollongong Mall. Some of you have certainly heard him recite his poetry at the Jamberoo and Kiama folk festivals. Irving never misses them.
And he tells me he did a show once at Beaton Park Tennis Club.
As a lover of the Australian outback, I trekked off to the Waltzing Matilda Australian Bush Poets Championships at Winton in Queensland, and it was there I crossed paths with Irving.
The poets of the nation had gathered at this marvellous slice of Australiana they call Winton where Banjo Paterson's Waltzing Matilda was first performed at the North Gregory Hotel 102 years ago.
We were having a beer at historic Tattersall's Hotel when he shuffled into the pub. We all looked at him, rudely I suppose, but he had a presence, a character direct from the tales of Henry Lawson, one of those magnetic types who command attention almost immediately.
We, as journalists, had been invited to Winton by the Queensland Tourist and Travel Corporation, and, as such, were on our toes for any good stories in the offing.
So, when Irving walked into that pub just after sunset on a busy Friday night, we all sensed a good yarn had just arrived.
And this night at Tattersalls, they had arranged a session of poetry in the pub.
Irving was every bit a swaggie. You could see that. "Is he a bush poet by any chance," I asked Paul Neilson, publican and outback tour operator. "Yes, one of our best," Paul said.,
The journos now knew they had their man. Here was a photographer's dream to begin with. Soon the evening's compere had started inviting poets to entertain drinkers by reciting a verse or two.
We were chatting away to Irving when a voice boomed: "Come on, Swaggie, it's your turn." Everybody cheered. Irving shuffled up to a corner of the pub and recited a poem he had written; it was called Mateship.
From under the old swaggie hat, the weatherbeaten and furrowed face, came this majestic voice as Irving held everyone spellbound with his recitation.

It was beautiful verse, no mistakes, no stumbles, just pure, confident, beautifully delivered poetry.
Underneath the swaggie facade was a marl of letters, a man of literature who could rattle off 20, 30, 40 verses and never miss a beat. He knew at least 200 poems. He had written quite a few himself. The son of a Maori princess and a Scottish father, Irving came to Australia from New Zealand 25 years ago.
In 1986 Irving hit the road, developed a passion for poetry and then decided he would walk the country following the folk festival circuit and attending poetry get-togethers.
Irving carries a billboard hailing himself as Australia's last remaining swagman, and a bush poet as well. Eleven years ago he took himself off the dole and started busking for a living. "If I make $50 a day I am happy," he said.
One night we took him into the hotel dining room for dinner. I thought I might delve into Irving's knowledge of poetry. He would know Paterson and Lawson from cover to cover,- I guessed.
But how about one of my favourites ... C J Dennis?
"Know any Dennis at all, Irving?"
For the next 10 minutes he simply fascinated us with extracts from The Moods of Ginger Mick, and others from Dennis as well.
Now Irving didn't get into the finals of the Waltzing Matilda bush poetry titles.
But the audience loved his work, even if the judges preferred others.
They applauded warmly when he gave them a stirring rendition of The Man from Ironbark in the Banjo Paterson section under the big tent one Saturday afternoon.
Irving has won his share of prizes and trophies. His poetic skills have not gone unnoticed and unrewarded Irving has tramped the highways and byways and bush tracks and by the billabongs for thousands of kilometres following the festivals and poetry shows.
We said goodbye to him at the Tattersall's Hotel. We even pushed a few dollars into his hand to have a drink on us.
Irving says he's coming back to Illawarra when the festivals are on again.
And he's promised to husk in Wollongong Mall, so you might not have to go very far at all to hear this remarkable man doing what he adores. Might cost you a dollar in the billy. Swaggie's worth every cent of it.
---